Dell EMC announced the availability of its updated market-leading storage portfolio refreshed with enterprise-grade capabilities designed to provide IT departments with the technology they need to modernise their data centre and begin their journey to transform IT.
Recently, Dell EMC had extended its entry-level SC Series offering with the affordable new SCv3000 arrays, which will be available to customers across the Middle East. This extended portfolio provides unprecedented access to advanced storage technology for businesses of all sizes and budgets. In addition, regional organisations will be able to procure the previously announced XtremIO X2. Dell EMC has amplified the strengths of the previous generation by enhancing XtremIO's elegant software design and adding more horsepower to the hardware.
"With these new breed of high-end and mid-range storage portfolio, Dell EMC is bringing best-in-class performance, capabilities, value and economics to customers," said Ossama El Samadoni, Director of Sales, Modern Infrastructure Team at Dell EMC. "The power and speed are unparalleled, but more importantly, customers of every size, every budget and every stage of IT Transformation can harness the power of enterprise-class storage to move their business forward."
Introducing the SCv3000 Series Storage Arrays
The SCv3000 hardware platform is significantly upgraded compared to the previous-generation SCv2000. New 6-core Intel processors, 2x the memory and 3x greater bandwidth result in a 50 percent performance boost, with tested maximums up to 270,000 IOPS. SCv3000 arrays are customer-installable, lowering start-up costs, but are also supported by a full range of ProSupport and ProDeploy services, including "Plus" versions – as well as the new optimise advanced services option.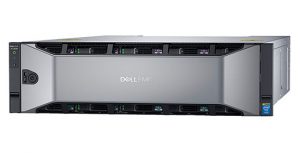 Like other SC products, SCv3000 Series offers an expanding range of Dell EMC hardware and software integrations including VMware vSphere plugin support, along with support for VMware Virtual Volumes. Support for Dell EMC data protection, storage management and availability products including Data Domain, PowerPath, RecoverPoint, VPLEX, ViPR and more, assure customers their SCv3000 arrays will continue to drive mixed-workload success in a variety of changing ecosystems, both now and as their businesses evolve.
With all the advanced capabilities starting at a street price of under $10,000, SCv3000 is simply a great value for the most cost-conscious customers. Customers know they can step up to even greater performance at any time by adding one of the higher SC models, taking advantage of our unique federated data mobility to smooth the process, because SCv3000 'full family member' with the rest of the SC products.
Introducing XtremIO X2: The Next Generation of XtremIO
XtremIO is the ideal platform for workloads that benefit from deduplication and integrated copy data management (iCDM) for large-scale snapshots, such as VDI and development/test use cases. With a powerful combination of new hardware and intelligently enhanced software, X2 offers up to 80 percent lower response times and 25 percent higher data reduction to support 2x more copies per cluster for iCDM.
Dell EMC has engineered X2 to be even more efficient in storage capacity and All-Flash performance, at a price as low as one-third of its predecessor. X2 provides 3x the capacity per X-Brick as well as new multi-dimensional scalability to scale up from as low as 7TB to as high as 138TB per X-Brick, scaling out up to eight X-Bricks. Finally, X2's rack density has been increased by 4x, providing up to 5.5PB effective capacity and a capacity density of over 100TB effective per rack unit.
Click below to share this article